English Leicester - A Rare Heritage Sheep Breed
The last post described the process of creating a beautiful vintage scarf project, the Fanchon Hood. A portion of this piece was created with a very special wool known as
Leicester Longwool
, as pictured in the tassels above.
The sheep that provide this gorgeous fiber have a history worth noting. A pioneering man in Great Britain, Robert Bakewell, was adept at matching science with agriculture and is responsible for this breed. He set out to breed sheep that would grow up quickly and have not only a lot of meat for the table, but wool for the spindle as well. He selected the best animals of both qualities and bred them together. This is logical today, but in the 1700s was seen as novel and helped the breed gain traction with influential buyers. George Washington
even kept some at Mount Vernon! Bakewell would show his sheep at fairs and even charge admission to see his favorite, named Two Pounder.
Two Pounder's portrait was painted and some of the flock were quite lucrative as lovers - Bakewell leased his rams as studs.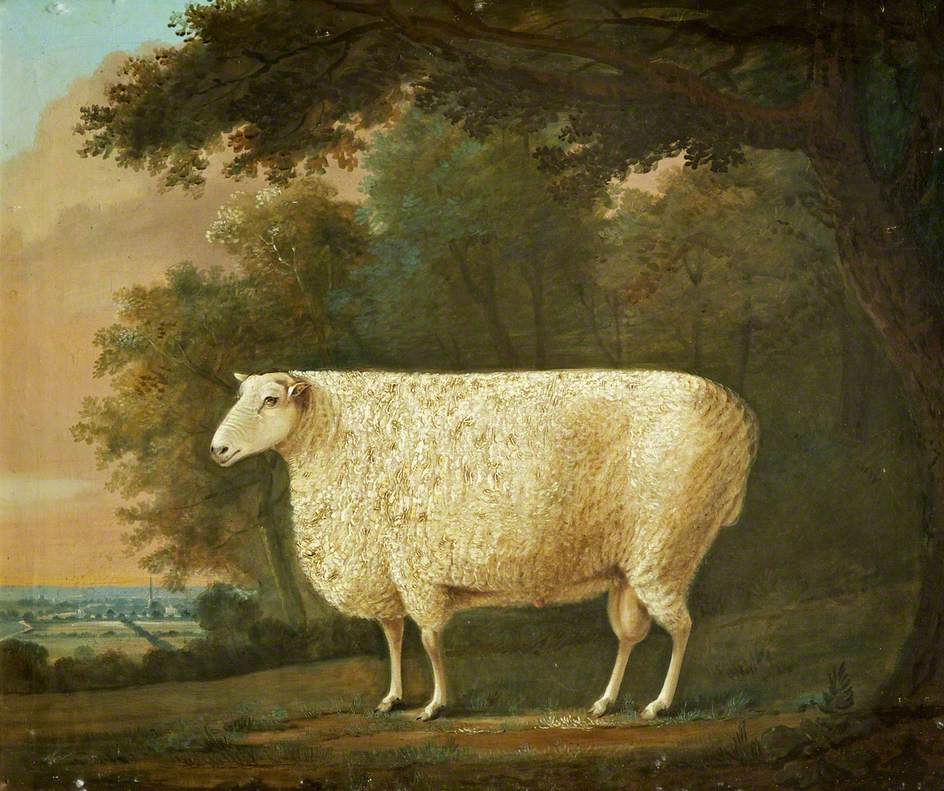 Leicester Longwools became the foundation for much of the sheep industry in Australia and came to be known by different names, such as Bakewell Leicesters, Dishley Leicesters and English Leicesters, among others. They also served as the success for future breeding achievements as their cross breeds have resulted in Bluefaced Leicesters and Border Leicesters.
Nevertheless, appreciation for Leicester Longwools began to dwindle over time. With the advent of agro-industry the breed, along with many others, became supplanted in favor of sheep producing fine wool such as merino. The difference in wool type is notable, with the shorter, softer fibers of Spanish Merino sheep having less
lustre, length and radiance
than the Leicesters.
The Colonial Williamsburg Foundation sought to find an authentic sheep breed from the 1800's to complement their other historical animals. Some research into farm records of livestock made Leicester Longwool a clear choice. Finding the breed, however, was not such an easy endeavor. At the time, the 1980's, there were seemingly no purebreds in the US to acquire. Fortunately they were able to obtain a male from a Canadian flock via a farm in New Jersey. Tragically, he was was brutally killed. The outpouring of empathy over this horrible event lead to the support needed to establish the flock whose ancestors you can visit at Colonial Williamsburg today. You can read more about the breed and the full story
here at Oklahoma State University.
Many of us these days are interested in sustainability and care for the environment. Matching that compassionate concern with our beloved knit, crochet, and/or fiber art can be a way to support endangered breeds. A quick search for "rare sheep breeds" will open the door for learning more about them, where to buy, and what projects their fleece is best suited for. The Leicester Longwool seen in the Fanchon Hood project was purchased at the New York State Sheep and Wool Festival, (Rhinebeck) from
Wool out of Wales
.
If you manage an endangered sheep breed flock or offer their products online, please let readers know in the comments!